Stress is often a considerable part of life, and not much can be done to avoid it. Your work, relationships, kids, the economy, and many more could often be the source of stress. While the source of stress might be off your hands, you can try many things to reduce the effect of stress and cope with it naturally. 
Developing excellent and healthy coping mechanisms is essential. It can help avoid the aftermath of stress like headaches, high blood pressure, obesity, and other unhealthy diseases. 
While alcohol, binge eating, withdrawing, or smoking might seem to be an easy way from stress, these approaches are not sustainable in the long run. Besides, they often do not provide a reliable way to relieve stress.
As a result, going with the natural stress-busting method can help a lot. These methods are proven to provide relief, reward you with other benefits and help the body relax in the face of a perceived threat. Here are eight natural stress-busting hacks:
Consider Aromatherapy
The olfactory nerve includes everything that has to do with smell. It travels from the nose to the brain, is responsible for the smell, and supports the parasympathetic nervous system. The brain receives signals from the nerve stimulating the limbic system and amygdala – brain parts responsible for mood and emotions. 
Essential oils, at times, contain active ingredients which stimulate the olfactory nerves to block out signals. This triggers a calming effect in the brain, which dominates other body parts. 
Specifically, the lavender essential oil has been proven to boost mood and trigger relaxation in the nervous system – these help in stress relief. Other essential oils that can relieve stress are Bergamot, Ylang Ylang, lemon, clary sage, sweet basil, Jasmine, Holy basil, etc. 
Try Kratom
At times, you might need to resort to some natural supplement to relieve stress. Kratom is one such natural supplement that can induce significant calmness in users. 
Kratom is rich in anxiolytic substances, which makes it ideal for stress relief. It can relieve anxiety, stress, depression, and deal with mood disorders as well. Kratom is rich in active alkaloids like Mitragynine which helps relieve stress and trigger a happy feeling. You can consider the most trusted kratom vendors online to get the best kratom for stress relief. 
Progressive Muscle Relaxation
This method was developed in the early '30s, which involved muscle groups' subsequent tightening and relaxation. The concept follows the idea that mental relaxation is tied to physical peace that comes naturally. 
Anyone can learn the technique, and it involves no specific skill, although some muscle activity is involved. It needs constant practice with patience for maximum benefit. Besides, 15 minutes of progressive muscle relaxation per day will help incredibly.
Yoga
This ancient Indian practice can help provide relief from stress. It aims to reconfigure the breathing using the diaphragm so that one can use the entire lung capacity. With this, one can breathe effectively. Knowing and learning the recommended breathing technique is a significant way to get the best of all yoga forms and enjoy the relaxation that comes with it. 
Yoga also trains people to tune with their body which happens by increasing sensitivity to primary movement form. As a result, people can exist, be present, conscious, mindful, and connected. 
Some yoga postures like inversions and forward bending can calm the body. Strategic postures that loosen up the shoulders and hips help let go of emotional energy. Such poses are incredibly beneficial, especially during a moment of intense stress. 
Consider kava kava
Here is a natural herb that triggers an intense relaxation effect. According to clinical studies, kava is incredibly helpful in managing stress. Kava kava can trigger the GABA receptors of the brain, which influence the nervous system's activities, thus calming users. 
Many believe that kava can block the activity of norepinephrine – one of the neurotransmitters responsible for stress in the body. It also disturbs the channels for sodium and potassium in the body, limiting the contracting of muscles and triggering their relaxation. 
Exercise
Exercise is one of the straightforward things you can do to relieve stress. The stress that exercising puts on the body can help calm you mentally. Exercise releases endorphins that relax the body and make you feel good about yourself. Endorphins also act as natural pain killers. 
Also, it can help reduce the effect of cortisol, the stress hormone. You have a better chance of managing and coping with stress if you work out regularly. It also improves sleep quality for people who experience insomnia due to excessive stress.
Even if you are busy, your exercise plan can be as simple as taking a walk, jogging, or cycling down the road. The objective is to get your heart beating fast and sweat. Your ability to be consistent with this can reward you with a series of benefits, one of which is improved confidence, promoting your mental health.
Meditation
This ancient relaxation technique is pretty effective for reducing stress alongside a series of other benefits. Meditation is a technique that can calm your nerves, equipping you with a better opportunity to handle stressful events.  
Based on a study at John Hopkins University, meditation can relieve psychological stress like pain, anxiety, and depression. This explains why meditation is becoming a standard tool among health professionals. 
Meditation can occur in various types, as discussed below. You can choose the kind that appeals to you from our list below:
Guided Meditation

: a form of mental vacation in which patients imagine places or things that relaxes them
Mindful Meditation

: involves an increased awareness and acceptance of living in the moment
Transcendental meditation

: repetition of a chosen mantra, phrase, or sound in a given way.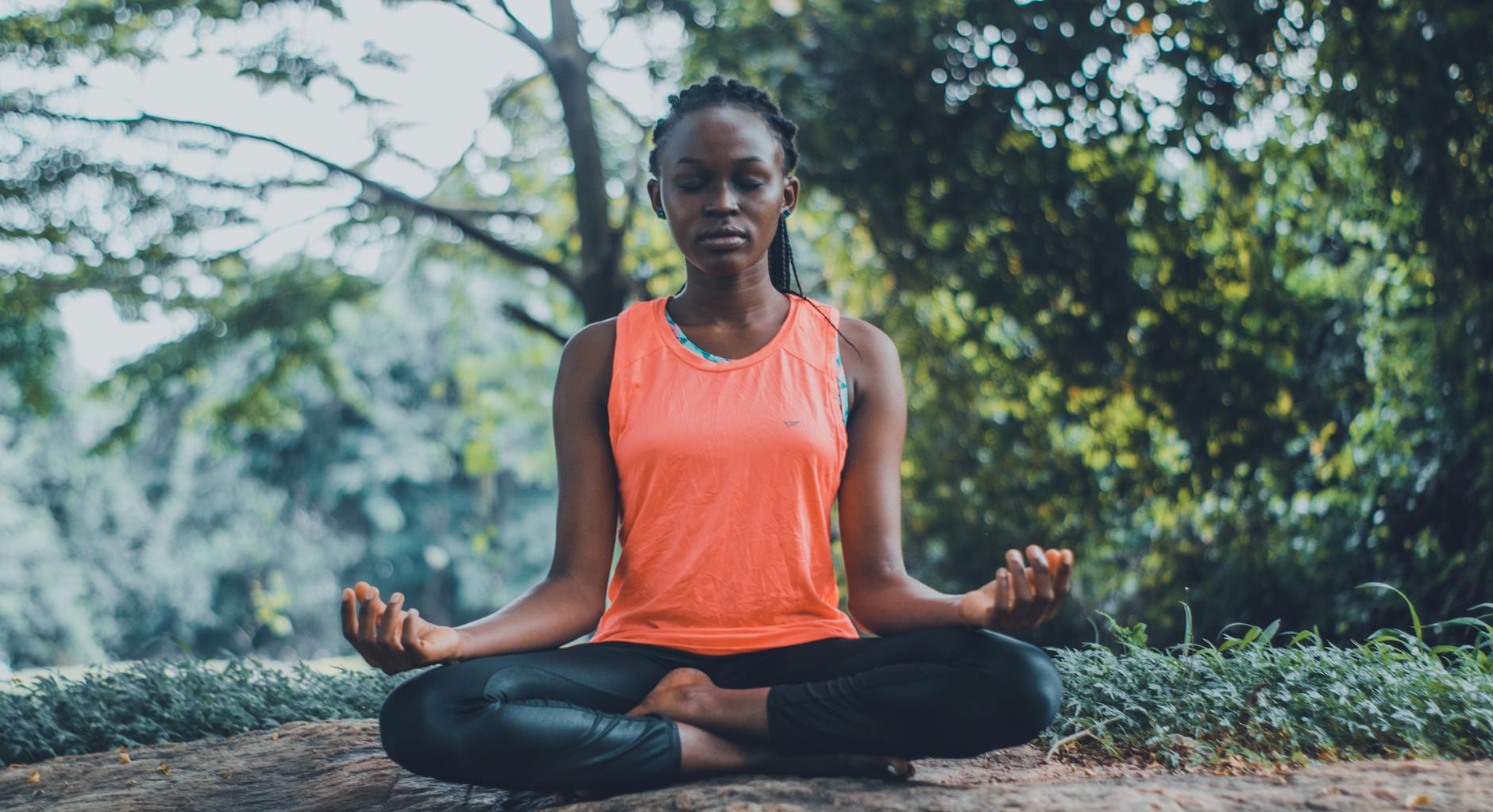 Laugh
Anxiety and laughing do not go hand in hand. As a result, it is difficult to be stressed or tense when laughing. As a result, laughing is beneficial to the health and can relieve stress in some ways:
Relieves stress response

It relaxes your muscle which relieves tension
Overall, laughing boosts the immune system and also improves mood in the long run. According to a study among a group of cancer patients, it was discovered that the laughter intervention group experienced calmer compared to the group who were simply distracted. 
Consider hanging out with friends who make you laugh, watching comedy skits or sitcoms.
Conclusion 
Stress need not limit and reduce the quality of your life. You can engage in some natural means to cope with stress and get your life in order. This article has eight natural stress-busting hacks that anyone can engage in to fight stress.