Whether you live to eat or eat to live, in both cases food is an essential entity. In case of any celebration or a party, good food is the lifeline of your guest's happiness. It is quintessential to serve the guest with good food that leaves a lasting impression on their taste buds apart from the other party activities. Preparing an extra vacant menu at home is a great challenge and very few can achieve it with justified taste and brilliant presentation. Most of the people would agree with me, that preparing food for a large number of people all by yourself is similar to adjusting the giraffe in a matchbox.
Cooking is not everybody's skill to render. One should try to take up a task that is easily managed and justified once completed. However, there are many other chores that you need to manage in order to host a dinner or get together at your property. In order to concentrate and put together perfect arrangements, it is wise to outsource the food catering to some private catering service.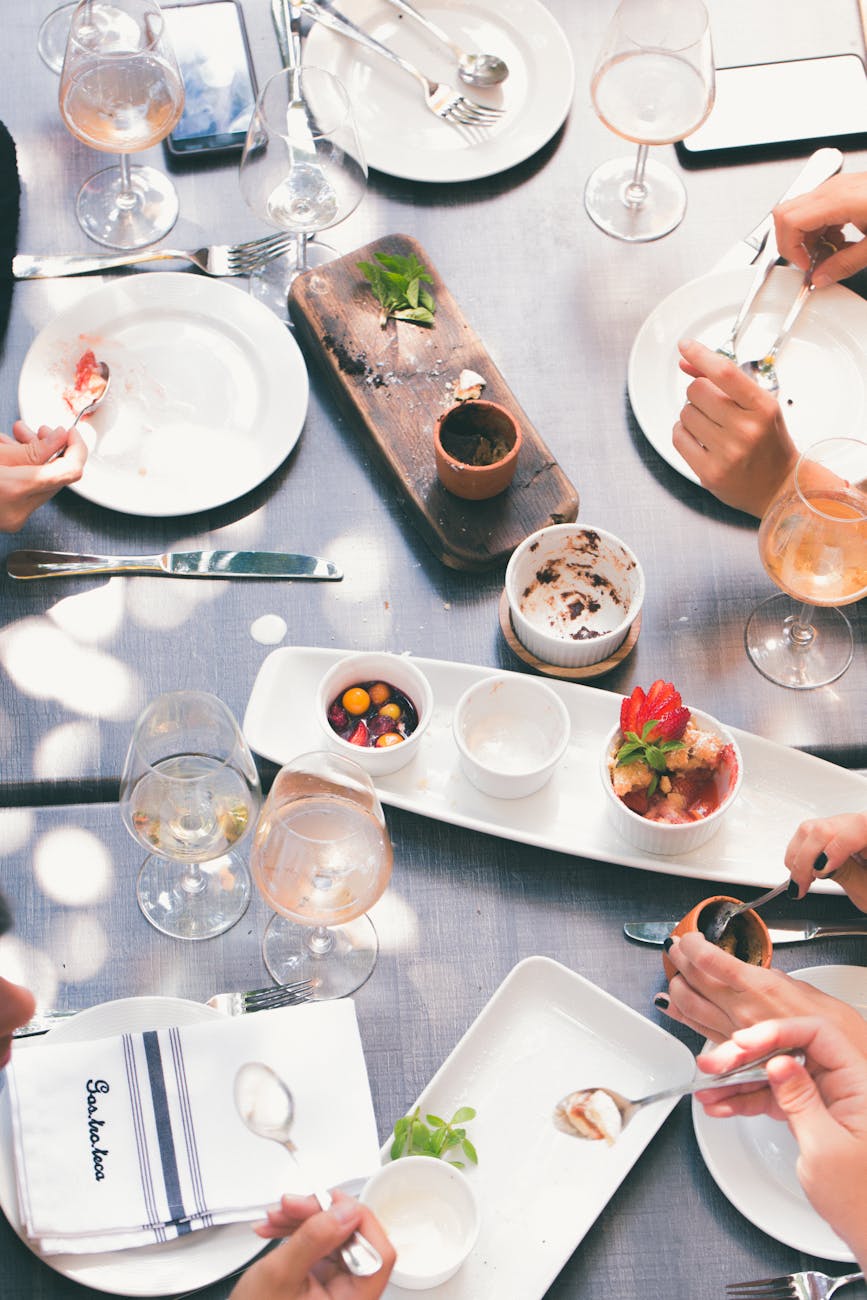 Eating out in a restaurant has become a fashion trend. Many restaurants are offering exquisite and fine cuisine, competing within the sea of other competitors raving about their own expertise. Similarly, there are numerous catering services around, for you to choose from. Run of the mill catering services lacks quality and expertise in proper service. This type of ordinary catering does nothing to please the taste buds of your guests. The idea is to serve your guests by integrating the type of your attendees and keeping their likes in your mind. 
Whether you are a restaurant owner offering catering service or a sole proprietor of a catering business, it is important to stay ahead of the trend in dining. Below are 10 hot trends in the catering industry, to make you stand out at par in offering brilliant service: 
1). Buffet Food Stations
The buffet food system dates back to the French 15th century. It is the easiest way to layout the dining experience for a large number of people at one event. The events like weddings, official gatherings, etc. are places where buffets or food stations work out best to cater to large groups. One advantage of a buffet is that you can fit the catering to almost any budget and it can be customized for hot or cold items in a casual or a formal display. The trend of food stations is also on the rise. However, it is not like the buffet system but caters to a variety of culinary items displayed in separate sections all around the venue.  Usually, food stations consist of appetizers and finger foods, for a cocktail party having a cocktail station too. 
2). Theme Specific Cuisine
Theme-specific cuisine is a huge trend. Create a culinary experience for your guest which involves a specific theme or cultural expertise in catering. It is an easy way to impress your guests and create some highlight in your event giving your guests an exclusive experience to their taste buds which they would reminisce for many days. High profile and savvy caterers will likely put forward the domestic food and remain within the budget, as locally produced food will look into the sustainability factor and a little emphasis on the display and presentation can create magic to your catering service. 
3). Smart Menu Smart Cuisine
The specific menu items that are being served makes a real difference. The food that can engage and make the people learn along with being able to recollect your event is something that comes with smart planning. Smart cuisine can literally become the food for thought to your guests. More people are health conscious and opting for healthier options in their diet. Moreover, such special events make the people overindulge without thinking of the consequences post-dinner. Therefore, smart cuisine means a lot to unfold the healthy menus, which is undoubtedly today's trend.
4). Interactive Service
With increasing cultural trends and greater consumer interest in exploring new ingredients, live and hands-on cooking is what all the new catering services are raving about. Live demonstration and on-site cooking, like cocktail tasting, live tandoori, and exclusive table sushi rolling classes are all the rage this season. A lively and interactive catering requires greater indulgence of the attendees by demonstrating and providing live cooking at your event. The trend for table-side service has gained a lot of popularity, especially cocktails by the roaming carts, serving nitrogen ice cream, the bar, the tea station, or the caviar carts. 
5). Grab and Go Beverage Bar
The new trend in putting up your events cuisine is to serve that grumbling stomach amongst your attendees with the easy grab of a meal and getting back to the business. Sometimes it is essential to put up small portions or one bite on the menu to serve the quick hunger in the form of appetizers and minerals at the same time. These can turn out to be salty, sweet, or spicy in flavor.
6). Dietary Options
The new trend of catering to every type of guest with different dietary requirements is taking up by the storm. Many guests are on a gluten-free diet, and the catering services include at least one or two dishes for those who are gluten intolerant. Many people even otherwise prefer to have a healthy diet that includes gluten-free food even if they are not intolerant. 
7). Chocolate Fountain
Nothing brings more joy than a chocolate fountain at parties for children and adults likewise. This special edition is in the limelight for every attendee who has a sweet tooth. Who doesn't have a love for chocolate? This chocolate fountain trend has been around for quite some time but has never been obsolete to drop it off.
8). Food-based Entertainment
The catering industry is not about only food and cuisine it also provides the best display and arrangement of menu items to serve the purpose of putting up a great ambiance. The whole aura that is created with the selection of fine cuisine and the style of serving puts together the factor of entertainment and record for your guest.
9). Mini Desserts
One thing all the guests seek to indulge in your exquisite menu is the mini desserts packed together at an exclusive dessert bar. The trend of mini wedding cake, cupcakes, and bite-sized tarts or other desserts are the hottest and demanding catering items. Missing out on it would be a sin.
10). Warriors of Food Waste
With the greater stress on saving natural resources and other food supplies, the greatest trend of zero-waste cooking has taken hold. The days of food being wasted at parties are over. The trend of utilizing the food from nose to tail is gaining momentum and people have come up with more creative ways to let not go any raw material items into waste. Sustainability is the top of the list factor along with the growing trend of food preservation in this current world crisis. Similarly, people are going towards maintaining just a closer circle with greater expectations of having limited guests. Along with the idea of incorporating tips to limit food waste and bring more biodegradable and renewable materials into our use. The clock is ticking, combated with smart catering.
Conclusion    
Catering is a sensible business and has to be incorporated in the most efficient manner in line with the current trends and keeping the environmental and health factors, you can bring out some remarkable cuisines and eye-catching ambiance whenever an event is organized.